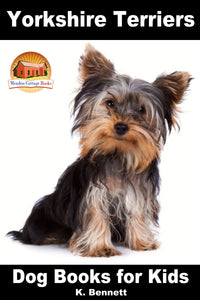 Yorkshire Terriers-Dog Books for Kids
Yorkshire Terriers-Dog Books for Kids
All Rights Reserved.

No part of this publication may be reproduced in any form or by any
means, including scanning, photocopying, or otherwise without prior
written permission from JD-Biz Corp
Copyright © 2014. All Images Licensed by Fotolia and 123RF.
Table of Contents

Introduction
Chapter 1 Early History
Chapter 2 Fascinating Features & Care
Chapter 3 Amazing Yorkie facts
Conclusion A Great Companion
Author Bio
Introduction

My little dog — a heartbeat at my feet.

~Edith Wharton

Yorkshire terriers are beautiful little dogs weighing approximately 7
pounds. They are popular pets and great companions with a "big"
personality, despite their size.
They are also vivacious, intelligent, feisty and loving. Although
stubborn from time to time, with the right training Yorkie's can be the
most adorable pet!

Yorkshire Terriers Page 5
Yorkshire Terriers have an interesting history. This particular breed
originated from Northern England, but don't let its size fool you. This
little dog packs lots and lots of love. A Terrier's coat is quite beautiful
and silky in shades of black, gray or even tan.