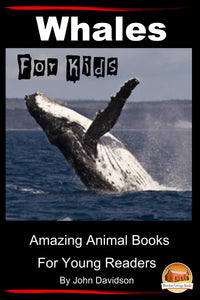 Whales For Kids - Amazing Animal Books for Young Readers
Whales For Kids - Amazing Animal Books for Young  Readers
All Rights Reserved.

No part of this publication may be reproduced in any form or by any
means, including scanning, photocopying, or otherwise without prior

written permission from JD-Biz Corp and
http://AmazingAnimalBooks.com. Copyright © 2015
All Images Licensed by Fotolia and 123RF
Table of Contents
Table of Contents.............................................................................................. 3
10 Wonderful Facts about Whales.................................................................... 4
Types of Whales ............................................................................................... 5
What do whales eat? ......................................................................................... 6
Where do Whales Live...................................................................................... 7
How Do Whales Communicate?....................................................................... 8
How big are Whales? ........................................................................................ 9
Do whales sleep?............................................................................................. 11
Baby Whales................................................................................................... 12
Whale Migration ............................................................................................. 14
Types of whales .............................................................................................. 16
Baleen whales ................................................................................................. 17
Beluga whales................................................................................................. 18
Blue Whales.................................................................................................... 19
Grey whales .................................................................................................... 20
Killer whales................................................................................................... 21
Killer whales................................................................................................... 22
Several Interesting Facts about Orca Whales.................................................. 22
Sperm whales.................................................................................................. 25
Whales and Dolphins:..................................................................................... 26
Endangered Whales ........................................................................................ 27
Publisher ......................................................................................................... 29
10 Wonderful Facts about Whales
Blue whale is known to be the largest mammal that has ever
lived, having a length of up to 105ft and weighing nearly 150
tons, the same weight as 150 small cars.
Whales being mammals have to come up for air unlike fish
which can breathe under water.
Whales do not sleep very long because they have to
remember to come up for air.
Whales breathe in air through their blowhole.
The female Baleen whale is larger than the males.
Male whales are referred to as the bulls, females as the cows
and their young ones as calves.