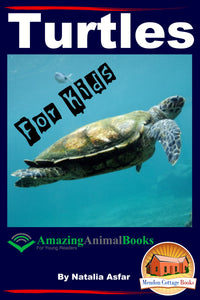 Turtles For Kids-Amazing Animal Books for Young Readers
Turtles For Kids-Amazing Animal Books for  Young Readers
All Rights Reserved.

No part of this publication may be reproduced in any form or by any
means, including scanning, photocopying, or otherwise without prior

written permission from JD-Biz Corp and
http://AmazingAnimalBooks.com. Copyright © 2015
All Images Licensed by Fotolia and 123RF
Table of Contents

Introduction........................................................................................4
Turtles Parts.......................................................................................6
Turtle Defense....................................................................................9
Turtles As Pets.................................................................................11
Turtles And Turtle Care...................................................................13
What Tortoise Eat ............................................................................16
Turtle Habitat...................................................................................18
Types Of Turtles..............................................................................20
Desert Tortoise.................................................................................23
Sea Tortoise .....................................................................................25
Giant Tortoise ..................................................................................27
Green Turtle.....................................................................................29
Box Turtle........................................................................................31
Loggerhead Turtle............................................................................33
Interesting Facts About the Tortoise................................................35
Turtle Facts......................................................................................38
Publisher ..........................................................................................46
Introduction

Turtles are a very common animal to us that is classified as a reptile.
Its body is shielded by a special bony shell which is their instinctive
feature.

There are two main groups of turtles:
1. Sea Turtle: This specific kind of turtles are generally big in size
and are found in all the Oceans in the world except for the Arctic
Ocean.
2. Fresh Water Turtle: This turtle is mainly called "Tortoises" and
live on the land. They are smaller than the Sea turtles.