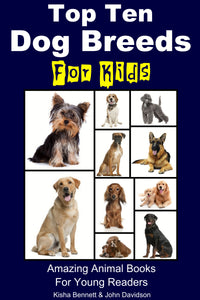 Top 10 Dog Breeds For Kids
Top 10 Dog Breeds For Kids
All Rights Reserved.

No part of this publication may be reproduced in any form or by any means,
including scanning, photocopying, or otherwise without prior written
permission from JD-Biz Corp and http://AmazingAnimalBooks.com.

Copyright © 2014

All Images Licensed by Fotolia and 123RF
Table of Contents

Top 10 - List:
Labrador retriever
A few Labrador facts you may like to know.
German shepherd
A few German shepherd facts you may like to know.
Poodles
A few Poodle facts you may like to know.
Rottweiler's
A few Rottweiler facts you may like to know.
Boxers
A few Boxer facts you may like to know.
Golden Retriever
A few Golden retriever facts you may like to know.
Beagles
A few Beagle facts you may like to know.
Yorkshire terrier
A few Terrier facts you may like to know.
Bulldogs
A few Bulldog facts you may like to know.
Dachshund

Man's Best Friend Page 4
A few interesting Dachshund facts you may like to know.
Conclusion
Author Bio
Introduction

Dogs are not our whole life, but they make our lives whole.

Roger Caras

'Man's best friend.' Is this the way you feel about your dog? I am
sure you do! But do you know why domestic dogs are called man's
best friend? It's because of their great loyalty, companionship and close
relationship with humans over the years.
A dog will stick to your side through thick and thin, just like a real
friend. And there are amazing stories which prove this fact. If you
would like to read some of them, ask your parents to help you search
online.