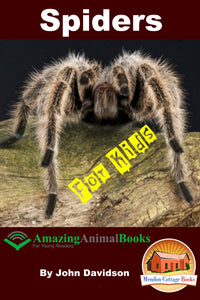 Spiders For Kids Amazing Animal Books for Young Readers
Spiders For Kids  Amazing Animal Books for Young Readers
All Rights Reserved.

No part of this publication may be reproduced in any form or
by any means, including scanning, photocopying, or
otherwise without prior written permission from JD-Biz Corp
and http://AmazingAnimalBooks.com. Copyright © 2015
All Images Licensed by Fotolia and 123RF
Table of Contents

Introduction to Spiders...........................................................................4
10 Facts About Spiders...........................................................................6
Spider Eggs.............................................................................................8
Spider Anatomy....................................................................................10
Spider Habitat.......................................................................................12
Spider Silk ............................................................................................14
Spider Webs - For Catching Prey.........................................................16
Spider Senses........................................................................................18
Spider Bites ..........................................................................................19
Types Of Spiders..................................................................................20
Spider Identification .............................................................................23
Black Widow Spiders...........................................................................24
Crab Spider...........................................................................................26
Baby Spiders.........................................................................................28
Brown Recluse Spiders.........................................................................30
Funnel Spider........................................................................................32
Tarantula Spiders..................................................................................34
Jumping Spiders ...................................................................................36
World's Most Poisonous ......................................................................38
Publisher...............................................................................................46
Introduction to Spiders

Spiders are the most distributed of all the insects on earth. They are
found in every part of the world except in Antarctica. 40,000 species of
the spiders are found on earth. Introduction to spiders can be done by
knowing about their anatomy. The body of the spider is divided into
two parts. The upper part is called cephalothorax and the lower part is
the abdomen. Spiders don't have antennae like other insects.

Spiders eat other spider and insects. They catch their prey by weaving
web in which insects are caught. Large spiders eat lizard and birds.