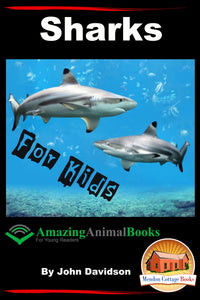 Sharks For Kids- Amazing Animal Books for Young Readers
Sharks For Kids- Amazing Animal Books for Young Readers
All Rights Reserved.

No part of this publication may be reproduced in any form or
by any means, including scanning, photocopying, or
otherwise without prior written permission from JD-Biz Corp
and http://AmazingAnimalBooks.com. Copyright © 2015
All Images Licensed by Fotolia and 123RF
Table of Contents

1. Introduction to Sharks ........................................................................4
2. Great White Shark Facts.....................................................................7
3. Bull Shark Facts ...............................................................................10
4. Tiger Shark Facts..............................................................................14
5. Hammerhead Shark Facts.................................................................18
6. Whale Shark Facts............................................................................21
7. Shark Attack Facts............................................................................23
8. Shark Behavior.................................................................................26
9. Shark Anatomy.................................................................................29
10. Misunderstandings about Sharks....................................................32
Publisher...............................................................................................41
1. Introduction to Sharks

Introduction to sharks

Fresh water sharks are known to be of some great interest to
the aquarium This is when this fish that appears unusual
creates motion in the water through gliding backwards and
forwards in its very colorful school. In the introduction to
sharks, this article is going to high light some of the
commonly found types of sharks, which are best suitable to
rear in the aquarium.