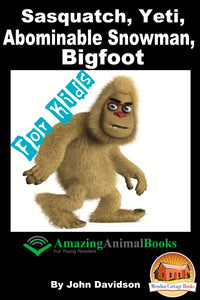 Sasquatch, Yeti, Abominable Snowman, Bigfoot – For Kids Amazing Animal Books for Young Readers
Sasquatch, Yeti, Abominable Snowman, Bigfoot – For Kids  Amazing Animal Books for Young Readers
All Rights Reserved.

No part of this publication may be reproduced in any form or
by any means, including scanning, photocopying, or
otherwise without prior written permission from JD-Biz Corp
and http://AmazingAnimalBooks.com. Copyright © 2015
All Images Licensed by Fotolia and 123RF
Table of Contents

1. Facts About Sasquatch .......................................................................4
2. Sasquatch Evidence ............................................................................6
3. Bigfoot or Sasquatch Sightings..........................................................9
4. Sasquatch Tracks..............................................................................12
5. Facts About the Abominable Snowman ...........................................14
6. Facts About the Yeti.........................................................................17
Publisher...............................................................................................27
1. Facts About Sasquatch

A Sasquatch is explained as a bipedal humanoid with thick
fur. Most of the scientists do not believe that Sasquatch
exists, putting the creature in the field of cryptozoology.
These creatures are seen in the places of Pacific Northwest
and in the Canadian woodlands. Illinois research determined
that the likely habitat of Sasquatch is similar with the habitats
of big mammals like black bears, which can be wrongly
assumed for a Sasquatch.