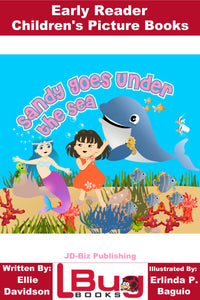 Sandy Goes Under the Sea - Early Reader Children's Picture Books
Early Reader Children's Picture Books
Sandy is a little girl who loves to go the beach. One day, she meets a helpless mermaid named
Blue. Sandy helps Blue gets free from a fisherman's net and Blue shows Sandy everything about
the ocean World. Sandy learns about starfish, seahorse, schools of fish, sea turtles, and whales.
Most importantly, she learns that people have to take care of the ocean.