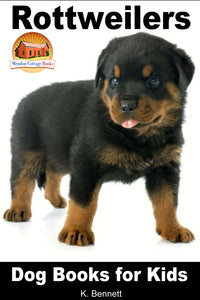 Rottweilers-Dog Books for Kids
Rottweilers-Dog Books for Kids
All Rights Reserved.

No part of this publication may be reproduced in any form or by any
means, including scanning, photocopying, or otherwise without prior
written permission from JD-Biz Corp
Copyright © 2014. All Images Licensed by Fotolia and 123RF.
Table of Contents

Introduction
Chapter 1 Early History
Chapter 2 Fascinating Features & Care
Chapter 3 Amazing Rottweiler facts
Conclusion A Family's best friend
Author Bio
Introduction

"No matter how little money and how few possessions you own,

having a dog makes you rich."

― Louis Sabin

Rottweilers are powerful dogs from a long history of domestic dogs,
also known as butchers dogs. Strong, courageous and intelligent,

Rottweilers Page 5
Rottweilers are versatile and faithful dogs. They have outstanding
characteristics and are devoted to their family.

Butchers dogs were used to herd livestock in Germany. Do you know
why the name "butcher" was used? The carts were full of "butchered"
meat and other products to sell. So, when the dogs pulled the carts they
were called "butchers" dogs.