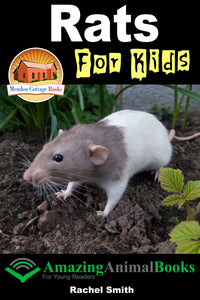 Rats For Kids-Amazing Animal Books For Young Readers
Rats For Kids-Amazing Animal Books For Young Readers
All Rights Reserved.

No part of this publication may be reproduced in any form or by any
means, including scanning, photocopying, or otherwise without prior
written permission from JD-Biz Corp
Copyright © 2014. All Images Licensed by Fotolia and 123RF.
Table of Contents

Introduction 4
What is a rat? 5
What kinds of rats are there? 7
Where do rats live? 9
The history of rats and humans 11
What is a brown rat? 14
What is a black rat? 17
What is a lab rat? 18
What kinds of lab rats are there? 20
What is a fancy rat and what kinds are there? 22
Conclusion 24
Author Bio 25
Introduction

Rats are some of the most adaptable creatures in the world. It seems
like everyone hates them, but they really are interesting and have
contributed a lot to science and made good companions for people.
So, are rats all bad? Easy answer, no. But that depends on what type of
rat they are, and there are many that should be avoided. Like any
animal, some rats are friendly, and others are nasty.
But the rat is an enduring character, inspiring writers from Brian
Jacques of the Redwall series and E. B. White in Charlotte's Web to
cast them as nasty, icky villains or at least as unsavory characters. But
then again, sometimes rats are portrayed as good characters, such as in
Pixar's Ratatouille.