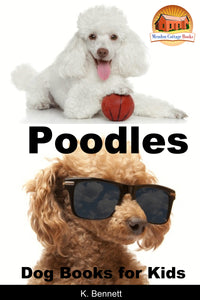 Poodles-Dog Books for Kids
Poodles-Dog Books for Kids
All Rights Reserved.

No part of this publication may be reproduced in any form or by any
means, including scanning, photocopying, or otherwise without prior
written permission from JD-Biz Corp
Copyright © 2014. All Images Licensed by Fotolia and 123RF.
Table of Contents

Introduction
Chapter 1 Early History
Chapter 2 Fascinating Features & Care
Chapter 3 Amazing Poodles facts
Conclusion A dog by any other name
Author Bio
Introduction

"Dogs are miracles with paws."
- Susan Kennedy

Poodles may be seen as 'all beauty and no brains. Some have even
labeled them proud and high minded…but nothing could be further
from the truth!

Poodles for Kids Page 5
This breed is highly intelligent, very obedient and active. They are also
eager to please and more than willing to give you their affection and
care.