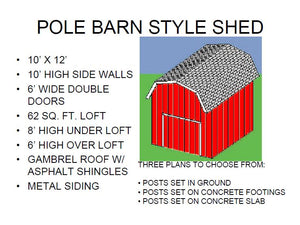 POLE BARN STYLE SHED PLAN
Since the age-old days of farming, pole barns have played a significant role in the lives of many people, particularly farmers. Until now, these structures serve as reliable storage for livestock and grain. For people who are interested in building their very own shed, procuring the right materials and knowing the proper way of creating them are crucial in the construction process. You can use these Pole Barn style Shed plan.
These Complete
POLE BARN STYLE SHED PLAN
is very affordable for only $9.99.
POLE BARN STYLE SHED PLAN