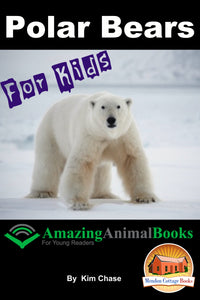 Polar Bears For Kids-Amazing Animal Books for Young Readers
Polar Bears For Kids-Amazing Animal Books for Young  Readers
All Rights Reserved.

No part of this publication may be reproduced in any form or by any
means, including scanning, photocopying, or otherwise without prior

written permission from JD-Biz Corp and
http://AmazingAnimalBooks.com. Copyright © 2015
All Images Licensed by Fotolia and 123RF
Table of Contents
Introduction.................................................................................... 4
About Polar Bears ........................................................................... 5
Polar Bears...................................................................................... 7
What Polar Bears Do ......................................................................10
How Polar Bears Communicate.......................................................13
Baby Polar Bears ............................................................................15
Polar Bear Facts..............................................................................17
Where to Polar Bears Live...............................................................19
Arctic Polar Bears...........................................................................21
Why are the Polar Bears Endangered..............................................23
What Polar Bears Eat......................................................................25
Habitat of Polar Bears ....................................................................28
Other Names for Polar Bears..........................................................30
Photo Credits .................................................................................34
Read More Amazing Animal Books .................................................35
Publisher........................................................................................41
Introduction

Have you ever wondered about the world of the polar bears? Wondered about
things like where do they live, or what do they eat? Did you know that polar
bears communicate with each other? You may have seen pictures of polar
bears many times, but what do you really know about them? Are polar bears
really white?
There are so many interesting things to learn about these powerful bears!