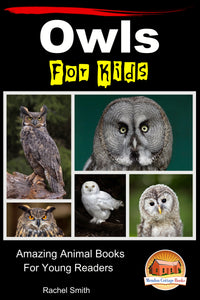 Owls For Kids-Amazing Animal Books For Young Readers
Owls For Kids-Amazing Animal Books For Young Readers
JD-Biz Publishing
All Rights Reserved.

No part of this publication may be reproduced in any form or by any
means, including scanning, photocopying, or otherwise without prior
written permission from JD-Biz Corp
Copyright © 2014. All Images Licensed by Fotolia and 123RF.
Table of Contents

Introduction 4
What are owls? 5
What do owls look like? 7
What do owls eat? 9
Where do owls live? 11
True owls versus barn owls 13
Northern hawk-owl 15
Burrowing owl 17
Barking owl 19
Great horned owl 21
Eurasian eagle-owl 23
Fearful owl 25
Barn owl 26
Snowy owl 28
Conclusion 30
Author Bio 31
Introduction
Something about owls excites the human imagination. For a very long
time, owls have been the symbols of wisdom in some cultures. They
are also considered omens of bad luck in others. It was the symbol of
the Ancient Greek goddess Athena, and in recent times a picture or
figure of an owl has been popular as jewelry.
But the owl is a creature that is not mysterious, with a little research.
They behave a lot like other birds that hunt, only most of them do it at
night.
If you've ever wondered about the sometimes cherished, sometimes
feared creature of the night, there's a lot you can learn about the owl, in
all its different forms.