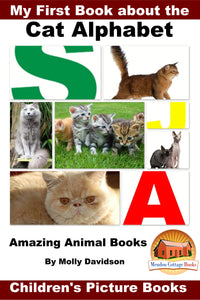 My First Book about the Cat Alphabet Amazing Animal Books Children's Picture Books
My First Book about the Cat Alphabet-Amazing Animal Books-Children's Picture Books
All Rights Reserved.
No part of this publication may be reproduced in any form or by any means,
including scanning, photocopying, or otherwise without prior written
permission from JD-Biz Corp and http://AmazingAnimalBooks.com.
Copyright © 2016
All Images Licensed by Fotolia, Pixabay, and 123RF
Some Cat Facts
To start out our book about cats, I have
included a few interesting facts.
Cats are the number one pet in the World.
Cats grow and develop in one year, the same
amount humans do in 15 years!
My First Book about the Animal Alphabet Page 4
Cats can hear about 5 times better than humans.
Pet cats spend about 17 hours every day
sleeping.