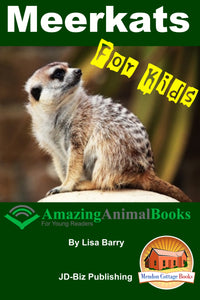 Meerkats For Kids Amazing Animal Books for Young Readers
Meerkats For Kids  Amazing Animal Books for  Young Readers
All Rights Reserved.

No part of this publication may be reproduced in any form or
by any means, including scanning, photocopying, or
otherwise without prior written permission from JD-Biz Corp
and http://AmazingAnimalBooks.com. Copyright © 2015
All Images Licensed by Fotolia and 123RF
Table of Contents
Meerkat Facts.........................................................................................4
What do Meerkats Look Like? ................................................................6
Where Do Meerkats Live........................................................................8
The Meerkat Home...........................................................................10
What Do Meerkats Eat? .......................................................................12
What Animals Eat Meerkats? ...............................................................15
The Meerkat Mob.................................................................................16
The Meerkat Family..............................................................................19
Meerkats Life Cycle...............................................................................21
How do meerkats speak to each other? ..............................................23
A Day in the Life of a Meerkat..............................................................24
Meerkat relatives..................................................................................25
Meerkats in Captivity............................................................................27
Did you know? ......................................................................................28
Could I Have a Meerkat As a pet? ........................................................29
Publisher...............................................................................................36
Meerkat Facts

 Meerkats are mammals. This means that they breathe
with lungs like humans.
 Meerkats live in large groups. People refer to these
groups as a mob, gang or clan.
 Meerkats are omnivores. This means they eat meat and
vegetables.
 Meerkats are also known as Suricate or Suricata
Suricata. The word means "Lake Cat" but Meerkats are
not related to cats at all.
 They belong to the mongoose family.

Meerkats for Kids Page 5

 In the wild they live for 6 - 8 years.
 A baby meerkat is called a pup.