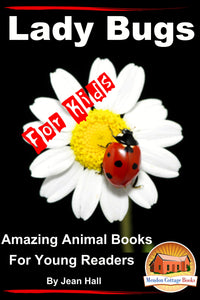 Lady Bugs For Kids-Amazing Animal Books for Young Readers
Lady Bugs For Kids-Amazing Animal Books for Young Readers
All Rights Reserved.

No part of this publication may be reproduced in any form or
by any means, including scanning, photocopying, or
otherwise without prior written permission from JD-Biz Corp
and http://AmazingAnimalBooks.com. Copyright © 2015
All Images Licensed by Fotolia and 123RF
Table of Contents

Table of Contents ...................................................................................3
1. Introduction ........................................................................................4
2. What are ladybugs? ............................................................................6
3. Anatomy of a ladybug ........................................................................9
4. Ladybug romance .............................................................................11
5. How to spot different types of ladybugs...........................................13
6. Are ladybugs helpful?.......................................................................15
7. Why do ladybugs smell when they are crushed?..............................16
8. How to get rid of ladybugs...............................................................17
9. How did the humble ladybug get her name? ....................................20
10. Ladybugs in the farming field ........................................................22
11. Ladybugs and tree diseases of the forest ........................................24
12. Ladybugs around the globe and in your backyard..........................26
13. Seasons for ladybugs......................................................................29
14. Conclusion......................................................................................31
15. Photo credits...................................................................................33
Publisher...............................................................................................41
1. Introduction

Ladybugs seem to come and go without being noticed most of the time.
They are cute and colorful insects. Insects are a living species that have
a 3-part body, several eyes, 3 pairs of jointed legs and 1 pair of
antennae. Antennae are long, thin sensors. Scientists that study insects
are called entomologists. Entomology is a Greek word meaning
segmented or cut into pieces. The study of insects is part of the field of
biology which studies all living things. An insect's body has pieces that
are joined together. Some animals have a long spine or backbone which
means that they are made all in one piece. Insects are a diverse and
fascinating form of life which accounts for more than two-thirds of all
known organisms.