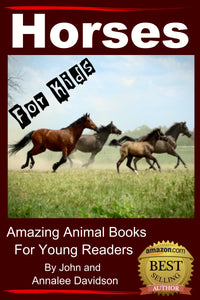 Horses For Kids- Amazing Animal Books for Young Readers
Horses For Kids-  Amazing Animal Books for Young Readers
All Rights Reserved.

No part of this publication may be reproduced in any form or
by any means, including scanning, photocopying, or
otherwise without prior written permission from JD-Biz Corp
and http://AmazingAnimalBooks.com. Copyright © 2015
All Images Licensed by Fotolia and 123RF
Table of Contents

1. Facts About Horses ............................................................ 4
2. Breeds of Horses ................................................................ 7
3. Thoroughbred Horses....................................................... 10
4. Barrel Horses.................................................................... 14
5. Race Horses...................................................................... 18
6. Dressage Horses............................................................... 21
7. Shire Horses ..................................................................... 24
8. Friesian Horses................................................................. 28
9. Miniature Horses.............................................................. 32
10. Mustang Horses.............................................................. 35
11. Quarter Horses................................................................ 39
12. Breeding Horses............................................................. 42
13. Clydesdale Horses.......................................................... 45
14. Morgan Horses............................................................... 48
15. Paint Horses.................................................................... 52
16. Riding Horses................................................................. 55
Publisher............................................................................... 63
1. Facts About Horses

Are you already fond of horses at an early age? If you do,
you will definitely enjoy the facts that you will learn about
the strongest animal we know.

How Horses Are Born

Just before giving birth, a young pregnant horse gets into the
right position. During its delivery, you will immediately see
the first front foot coming out, followed by the second foot,
then its nose. After the head is seen, the shoulders and the
head are next, and this is known to be the most difficult part.
After this challenging part, the hind legs and hips will come
out easily until the baby horse, which is called colt (boy) and
filly (girl) is completely out.