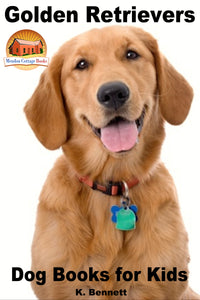 Golden Retrievers-Dog Books for Kids
Golden Retrievers-Dog Books for Kids
All Rights Reserved.

No part of this publication may be reproduced in any form or by any
means, including scanning, photocopying, or otherwise without prior
written permission from JD-Biz Corp
Copyright © 2014. All Images Licensed by Fotolia and 123RF.
Table of Contents

Introduction
Chapter 1 Early History
Chapter 2 Fascinating Features & Care
Chapter 3 Amazing Golden Retriever facts
Conclusion A Family's best friend
Author Bio
Introduction

"A dog is man's best friend, and vice versa."

-Anonymous

Golden Retrievers are considered 'the perfect family pet.' They are
charming, warm, tolerant, versatile, intelligent, and very friendly. As a
large size dog breed, they were originally bred as gun dogs and used
during hunting to help "retrieve" game like ducks and waterfowl.
As the name indicates, "retrievers" were used to "retrieve" things, but
their athletic skills go beyond hunting. For one thing, Retrievers love
the water. It is almost instinctive to them and they will not hesitate to
get wet.
They thrive on activities that give them something to do. It can be a
nice game of fetch, some fun at the beach, running around the yard, or
racing across an open field.
Although bred as a part of working dog, Golden retrievers are one of
the top ten most popular dog breeds today. They are also well known

Golden Retrievers – Dog Books for Kids Page 5
for their participation in conformation shows. Their versatile nature
extends beyond dog shows and into the home.