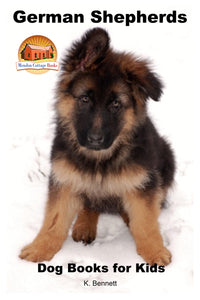 German Shepherds-Dog Books for Kids
German Shepherds-Dog Books for Kids
All Rights Reserved.

No part of this publication may be reproduced in any form or by any
means, including scanning, photocopying, or otherwise without prior
written permission from JD-Biz Corp
Copyright © 2014. All Images Licensed by Fotolia and 123RF.
Table of Contents

Introduction
Chapter 1 Early History
Chapter 2 Fascinating Features & Care
Chapter 3 Amazing German Shepherd's facts
Conclusion Man's best friend
Author Bio
Introduction

"Money will buy a pretty good dog, but it won't buy the wag of his

tail."
― Josh Billings

German Shepherds are intelligent, versatile, and faithful dogs. They
have outstanding characteristics, and excel in almost anything they do.
This breed is well known and among the 10 most popular breeds in the
U.S. But, what makes them so popular?
To begin with, their skills extend beyond the home. They are used in
law enforcement, serving with police and even the military. They also
help with special needs, for example: With those who are handicapped
and require constant attention.