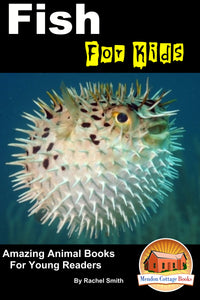 Fish For Kids Amazing Animal Books For Young Readers
Fish For Kids  Amazing Animal Books For Young Readers
All Rights Reserved.

No part of this publication may be reproduced in any form or by any means,
including scanning, photocopying, or otherwise without prior written
permission from JD-Biz Corp and http://AmazingAnimalBooks.com.

Copyright © 2015

All Images Licensed by Fotolia and 123RF
Table of Contents
Introduction.................................................................................. 4
What are fish?............................................................................... 5
What do fish eat?.......................................................................... 8
How do fish breathe? ...................................................................10
Fish and appearance ....................................................................12
Fish and each other......................................................................15
What do fish do?..........................................................................17
Saltwater versus freshwater fish ..................................................19
Sharks..........................................................................................20
Goldfish .......................................................................................23
Marlins ........................................................................................26
Lungfish .......................................................................................28
Mud skippers...............................................................................30
Coelacanths .................................................................................33
Eating Fish....................................................................................35
Conclusion ...................................................................................37
Author Bio ...................................................................................39
Publisher......................................................................................44
Introduction
The name 'fish' is a very broad term, meaning that it refers to many
different types of animals, from sharks to goldfish to lungfish. Since
there are more areas covered with water than there is dry land, fish are
all around the world, and quite possibly outnumber most other
animals.

In older times, a fish used to be anything that swam. A beaver was a
fish, for instance, or a frog. Now, the definition is narrower, but still
has many different creatures in it.
In this book, you'll read about fish and how they work, and then
you'll read about different types of fish. However, since there are
thousands upon thousands of different kinds of fish, it's really only
scratching the surface of different fish species.
From the endangered coelacanth to the common goldfish, all fish are
interesting in their own way.