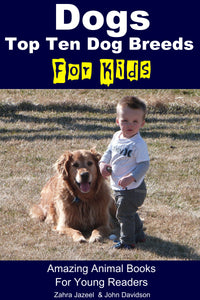 Dogs-Top Ten Dog Breeds-For Kids-Amazing Animal Books-For Young Readers
Dogs-Top Ten Dog Breeds-For Kids-Amazing Animal Books-For Young Readers
All Rights Reserved.

No part of this publication may be reproduced in any form or by any means,
including scanning, photocopying, or otherwise without prior written
permission from JD-Biz Corp and http://AmazingAnimalBooks.com.

Copyright © 2014

All Images Licensed by Fotolia and 123RF
Table of Contents

Introduction 4
About Dogs 6
Behavior 8
Senses 9
Dachshund 11
Rottweiler 13
Poodle 15
Boxer 17
Yorkshire Terrier 19
Bulldog 21
Beagle 23
Golden Retriever 25
German Shepherd 27
Labrador Retriever 29
Author Bio 31
Introduction

What would you like to receive as a Christmas present? A toy?
Book? That does not sound bad. But how do you like to have
something lively, adorable and playful? All in a single package. Yes,
you guessed it right. The dog – A man's best friend.
Had a bad day? Feeling low? Then its time to have a dog. There is
nothing more comforting than the feeling of someone anticipating
your return from work. That friendly bark, affectionate lick and the
deep imploring eyes as if understanding all what you mean are some
comforts no other animal could provide except for a dog, of course.

Dogs For Kids Amazing Animal Books For Young ReadersPage 5
This faithful animal could be a true companion throughout your life
standing next to you. Working alongside humans from the good old
days, these creatures have proven to be loyal friendlier than many of
our human friends. The relationship we share with dogs is special and
nobody can deny that. They have a special place in our heart.
Join us as we explore about the top 10 dog breeds while discussing
about the interesting facts about each breed in detail to understand
what makes them stand out from the rest. This is an opportunity to
make your own choice before heading to a pet store or.. look for the
perfect Christmas present.