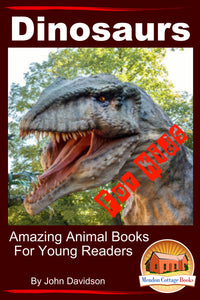 Dinosaurs For Kids Amazing Animal Books for Young Readers
Dinosaurs-For Kids-Amazing Animal Books-for Young Readers
All Rights Reserved.
No part of this publication may be reproduced in any form or by any
means, including scanning, photocopying, or otherwise without prior
written permission from JD-Biz Corp and
http://AmazingAnimalBooks.com . Copyright © 2015
All Images Licensed by Fotolia and 123RF
Table of Contents
1. Introduction to Dinosaurs 4
2. Facts about Dinosaurs 7
3. Dinosaur Extinction 10
4. Dinosaur Fossils 12
5. Dinosaur Eggs 14
6. Dinosaur Names 15
6. Dinosaur Names 15
7. Dinosaur Diet 18
8. Feathered Dinosaurs 20
9. Plant Eating Dinosaurs 23
10. The Weirdest Dinosaurs 25
11. The Deadliest Dinosaurs 29
12. Flying Dinosaurs 32
13. Kinds of Dinosaurs 36
14. The Biggest Dinosaurs 39
15. The Smallest Dinosaurs 42
Publisher 50
1. Introduction to Dinosaurs
The introduction of dinosaurs is with the Tyrannosaurus Rex dinosaurs.
These are found in the world's biggest dig sites of Montana. Here
paleontologists can explore the past of the dinosaurs existence and can
know the secret of their life from the period of Cretaceous or Jurassic.
The dinosaur can be huge, weird tiny and even wonderful. They are
also termed as giant killers.
The word dinosaur is derived from the ancient Greek word which is
denios. This means terrible lizard. They are a creature who are land
dwelling and the dominated the life on this planet during Mesozoic Era
which is 225 to 65 million of year ago. They were also flying reptiles
along with being a marine reptile. The different types of marine reptiles
are Plesiosaurs, Ichthyosaurs and Mosassaurs. They had their existence
for nearly 150 million years. It occupied every kind of environment and
climates on earth. They can see small as the size of chicken to over
large ones being 100 feet long and having the weight of 100 tons.
Dinosaurs evolved with time as the large structure and size has not
been achieved overnight. The dinosaurs are two types the one called as
Ornithischia which means bird hipped and Saurischia which means
lizard hipped. The dinosaurs were herbivorous, carnivorous and also
omnivorous.