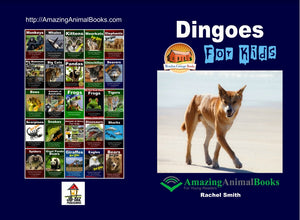 Dingoes For Kids Amazing Animal Books For Young Readers
Dingoes-For Kids-Amazing Animal Books-For Young Readers
All Rights Reserved.
No part of this publication may be reproduced in any form or by any
means, including scanning, photocopying, or otherwise without prior
written permission from JD-Biz Corp
Copyright © 2015. All Images Licensed by Fotolia and 123RF.
Table of Contents
Introduction 4
What is a dingo? 5
How do dingoes act? 7
Where did dingoes come from? 11
The history of dingoes and humans 14
Culture and dingoes 18
Prey of dingoes 21
Dingoes as pets 25
Conclusion 27
Author Bio 28
Publisher 29
Introduction
The dingo is an Australian animal that has been there for a very, very
long time. Lots of people hear the name, but most don't know much
about them, except that they're dogs.
But what is a dingo? How is it different from pet dogs? And is it one of
those crazily different Australian animals?
While the dingo is not a marsupial like the kangaroo or wallaby, it is
still fairly unique, like most animals that are native to Australia. By the
end of this book, you will have learned a lot more about dingoes than
most people know.