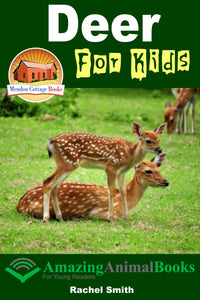 Deer For Kids Amazing Animal Books For Young Readers
Deer - For Kids - Amazing Animal Books - For Young Readers
By
Rachel Smith
Mendon Cottage Books
JD-Biz Publishing
All Rights Reserved.
No part of this publication may be reproduced in any form or by any
means, including scanning, photocopying, or otherwise without prior
written permission from JD-Biz Corp
Copyright © 2014. All Images Licensed by Fotolia and 123RF.
Table of Contents
Introduction 4
What are deer? 5
What do deer look like? 7
What do deer eat? 9
Where do deer live? 11
True deer versus other deer 13
Muntjac 15
White-tailed deer 17
Roe deer 19
Moose 21
Elk 23
Fallow deer 25
Brocket 27
Pudu 28
Conclusion 29
Author Bio 30
Introduction
Once upon a time, the word that deer was based on meant any wild
animal, and venison meant any meat caught from a wild animal.
Similar words still exist in other languages besides English, but for
several reasons, they didn't narrow it down to what is now a deer.
Deer are often seen as one of the most graceful kinds of animals. They
live throughout the world, except in Antarctica and Australia. Women
with brown eyes are often described as 'doe eyed', because most deer
(does are female deer) have beautiful brown eyes.
Deer also factor into myth and legend; among many instances of deer,
there comes the story of the Ancient Greek goddess Artemis, who
turned a peeping hunter into a deer to punish him. Deer were also said
to pull her chariot. Reindeer, another type of deer, pull Santa Claus's
sleigh. Celts considered deer to be a sort of 'fairy cattle', milked and
herded by fairies much like the Celts milked and herded cows.
The deer is a beautiful creature, and it's no wonder it's captured the
imagination of many ancient and current thinkers.