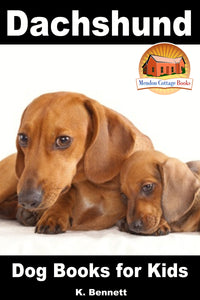 Dachshund-Dog Books for Kids
Dachshund-Dog Books for Kids
All Rights Reserved.

No part of this publication may be reproduced in any form or by any
means, including scanning, photocopying, or otherwise without prior
written permission from JD-Biz Corp
Copyright © 2015. All Images Licensed by Fotolia and 123RF.
Table of Contents
Introduction 4
Chapter 1 7
Chapter 2 12
Chapter 3 24
Conclusion 28
Author Bio 30
Publisher 35
Introduction

"A dog is man's best friend, and vice versa."

-Anonymous

Dachshunds are beautiful little dogs with a big personality! They have
a long body, short little legs and belong to the hound family group.
Dogtime.com refers to them as "short on leg but long on personality."
Aren't they cute?

At the start of their history, Dachshunds were busy chasing and
flushing out badgers. This skill applied to burrow dwellers, which are
animals that dig holes or tunnels.