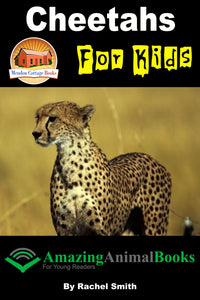 Cheetahs For Kids Amazing Animal Books For Young Readers
Cheetahs For Kids - Amazing Animal Books - For Young Readers
All Rights Reserved.
No part of this publication may be reproduced in any form or by any
means, including scanning, photocopying, or otherwise without prior
written permission from JD-Biz Corp
Copyright © 2015. All Images Licensed by Fotolia and 123RF.
Table of Contents
Introduction 4
What is a cheetah? 5
How do cheetahs act? 10
What kinds of cheetahs are there? 15
The history of cheetahs and humans 18
Cheetahs and conservation 21
Morphs and other differences among cheetahs 23
Conclusion 25
Author Bio 26
Publisher 27
Introduction
Cheetahs are probably one of the lesser known big cats. The tiger and
the lion are the best known, no doubt about that; however, cheetahs
definitely have their own space in the world's cultures.
As the fastest land animal alive, the cheetah has enchanted many
people throughout history. From the people who have had them around
as long as they can remember, to the explorers who saw them for the
first time, the cheetah captured the imagination of people everywhere.
The cheetah lives in many parts of Africa, as well as Iran. It used to be
that the cheetah also lived in a good portion of Asia, including India,
but it was pushed out. Still, the cheetah is well remembered there, and
there is an effort to reintroduce the cheetah, which was pushed out in
the 1940s.