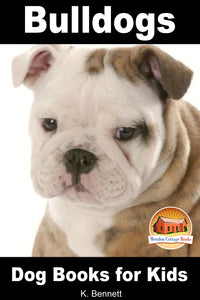 Bulldogs-Dog Books for Kids
Bulldogs-Dog Books for Kids
All Rights Reserved.

No part of this publication may be reproduced in any form or by any
means, including scanning, photocopying, or otherwise without prior
written permission from JD-Biz Corp
Copyright © 2014. All Images Licensed by Fotolia and 123RF.
Table of Contents

Introduction
Chapter 1 Early History
Chapter 2 Fascinating Features & Care
Chapter 3 Amazing Bulldog facts
Conclusion A Great Companion
Author Bio
Introduction

Dogs are not our whole life, but they make our lives whole.

~ Roger Caras

Bulldogs are heavy set dogs with lots of muscles and a wrinkly face.
They have a wide head and shoulders, lots of hanging skin, pointy teeth
and droopy eyes.
Their coat is shiny and short with varied colors like brindle, red, fawn,
and white. This breed can weigh between 45- 55 pounds, and a full
grown female is about 45 pounds.
The name of the dog might make you think it isn't too friendly. But, the
American Kennel Club says the bulldog's behavior should be: "equable
and kind, resolute, and courageous (not vicious or aggressive), and
demeanor should be pacific and dignified..."
So this breed is known as patient, friendly, and kind in nature. But,
these qualities are not by accident.