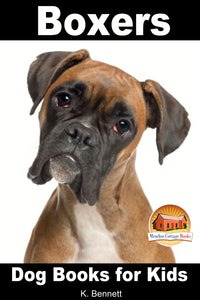 Boxers-Dog Books for Kids
Boxers-Dog Books for Kids
All Rights Reserved.

No part of this publication may be reproduced in any form or by any
means, including scanning, photocopying, or otherwise without prior
written permission from JD-Biz Corp. Copyright © 2015. All Images
Licensed by Fotolia and 123RF.
Table of Contents
Introduction 4
Chapter 1 7
Chapter 2 12
Chapter 3 21
Conclusion 26
Author Bio 28
Publisher 33
Introduction

Happiness is a warm puppy.
― Charles M. Schulz

Boxers are fun loving dogs with a heart of gold. At first glance, they
may seem imposing with a hidden message of 'see but don't touch' —
that is until their joy and boundless energy comes shining through!

This short haired, stocky breed comes from Germany. A mix between
an Old English Bulldog and the Bullenbeisser (Now extinct), this breed
is a part of the working group of dogs. After World War I, Boxers
arrived to the United States, and became a lovable companion to many
dog owners.