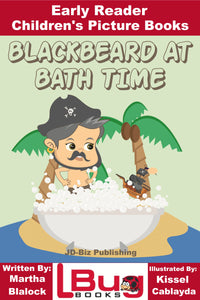 Blackbeard at Bath Time - Early reader - Children's Picture Books
Early reader - Children's Picture Books
"Ben! Your bath water is ready!" called Ben's
mom. Ben was playing with his little sister.
She sat on the floor in front of Ben. He
covered his face with his hands. "Peekaboo,
May!" he said, popping out with a smile.
Every time, May giggled loudly and clapped her chubby little hands.
All Rights Reserved.

No part of this publication may be reproduced in any form or by any means,
including scanning, photocopying, or otherwise without prior written
permission from JD-Biz Corp and Mendon Cottage LLC Copyright © 2016
All Images Licensed by Mendon Cottage LLC and Kissel Cablayda