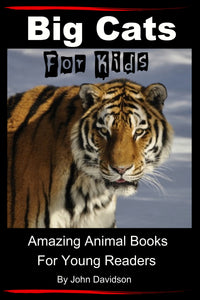 Big Cats For Kids - Amazing Animal Books for Young Readers
Big Cats For Kids Amazing Animal Books for Young Readers
Smashwords Edition
Copyright © 2013 by JD-Biz Corp.
Smashwords Edition, License Notes
This ebook is licensed for your personal enjoyment only. This ebook may not be re-sold or given away
to other people. If you would like to share this book with another person, please purchase an additional
copy for each recipient. If you're reading this book and did not purchase it, or it was not purchased for
your use only, then please return to Smashwords.com and purchase your own copy. Thank you for
respecting the hard work of this author.
http://AmazingAnimalBooks.com . Copyright © 2013
All Images Licensed by Fotolia and 123RF
Read More Amazing Animal Books
Table of Contents
1. 10 Facts About Big Cats
2. Facts For Children About Leopards
3. What Do You Think A Wildcat Is?
4. Endangered Big Cats
5. Big Cats Habitat
6. All About Cougars
7. Have You Ever Heard Of An Ocelt?
8. About African Cheetahs
9. The African Caracal
10. Big Cats Diet
11. Cubs Or Baby Big Cats
12. Tigers
13. A Cat Called a Serval
14. Snow Leopards: King of The Frozen Mountains
15. The Bobcat, North America's Wildcat
16. Why I Love The Jaguarundi
17. The Lynx - A Majestic Cat
18. What Are Pumas?
19. What Is A Jaguar?
20. What Are Lions?

Read More Amazing Animal Books
1. 10 Facts About Big Cats
If a naturalist uses the term of big cats, this usually will be talking about the four different kinds of cats
that can roar, and these four different kinds of cats are very different in size from each other, and they
also live in different places in the world. The first fact about all these big cats is that they are all
carnivores, which means meat eaters, and this means that they do out hunting for their food a good deal
of the time.
The second fact about big cats is that they belong to a family group called the genus Panther and in the
Panther group you will find lions, tigers, leopards, and jaguars. The third fact about big cats is that they
unlike smaller cats do prefer to eat their food while they are laying down. The forth fact about big cats
is that they mainly do their hunting at night, but there are some species of these big cats that do hunt
only during the day. The fifth fact about big cats is they are very powerful climbers the big cats is no
other than the leopard. The leopard is able to carry any prey up a tree, which is sometimes twice its
own weight in description.
10 facts about big cats that are interesting and true do continue, and the number six fact is this tigers are
considered to be the largest amid all big cats. Siberian tigers alone can achieve weights up to 700
pounds. The seventh fact about big cats is that Amur leopards are endangered from among the
endangered list of world animals. The eighth fact about big cats is that only lions are the one big cat
who lives in groups that are known as being prides. These prides have females that are all related to
each other. The ninth fact about big cats is that mountain lions have longer back legs than legs in the
front of their body, and this is something that works to their advantage, because it makes them truly
strong jumpers because of their muscular back legs. The tenth and final fact about big cats is that tigers
are hunted a great deal for not just their skin, but their very bones, and other assorted body parts that
can be used as part of traditional Chinese medicine.
The ten facts listed here about big cats only show just how very unique and special big cats are.
Therefore, we should truly appreciate them for being the wonderful animals that they, and which we
have come to know and love as being part of the big animal kingdom.