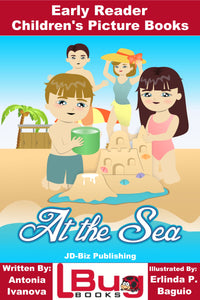 At the Sea - Early Reader - Children's Picture Books
Early Reader - Children's Picture Books
 It was almost eight o'clock but Karrie's family was still in the car. They had been
traveling for hours on their way to the sea. It was going to be the kids' first time at the seaside.
"Hey, look!" Jim, Karrie's brother, suddenly said, pointing at something in the
distance. It was a big layer of dark blue against the sky and it stretched along the
whole horizon. "Yes, kids, this is the ocean," their Dad said, glancing quickly at the
huge blue thing to their left. Grab a copy now! 
All Rights Reserved.

No part of this publication may be reproduced in any form or by any means,
including scanning, photocopying, or otherwise without prior written
permission from JD-Biz Corp and Mendon Cottage LLC Copyright © 2016
All Images Licensed by Mendon Cottage LLC and Erlinda Baguio