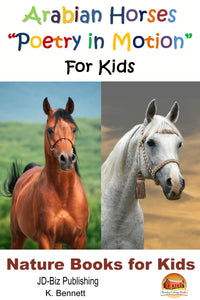 Arabian Horses "Poetry in Motion" For Kids-Nature Books for Kids
Arabian Horses "Poetry in Motion"  For Kids-Nature Books for Kids
All Rights Reserved.

No part of this publication may be reproduced in any form or by any
means, including scanning, photocopying, or otherwise without prior
written permission from JD-Biz Corp
Copyright © 2015. All Images Licensed by Fotolia and 123RF.
Table of Contents

Introduction
Chapter 1 A Magnificent Horse
Chapter 2 Training & General Tips
Chapter 3 Horses Fun Facts!
Conclusion Nature's Great Wonders
Author Bio
Introduction

A good horse makes short miles. ~ George Elliot

***

Arabian Horses: The Arabian horse or Arab horse is a beautiful
breed with a shiny coat! They are very fast and strong, and can ride
around for a very long time without getting tired!
These amazing horses come from the Arabian Peninsula. Do you
remember what a peninsula is?