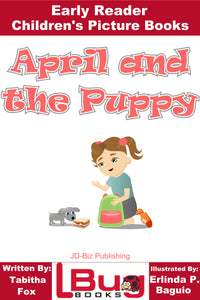 April and The Puppy - Early Reader - Children's Picture Books
Early Reader - Children's Picture Books
April and the Puppy
Written By: Tabitha Fox
One afternoon, while April was playing basketball, she noticed a strange
sound coming from the other side of her Dad's truck.
She was a little spooked but very curious, so she slowly started walking towards
her Dad's truck. One step at a time, April tiptoed around the back of the truck.
She looked down and saw a tiny little puppy hiding behind the tire. She leaned
down to pick up the little puppy. It was so cute!
All Rights Reserved.
No part of this publication may be reproduced in any form or by any means,
including scanning, photocopying, or otherwise without prior written
permission from JD-Biz Corp and Mendon Cottage LLC Copyright © 2016
All Images Licensed by Mendon Cottage LLC and Erlinda Baguio