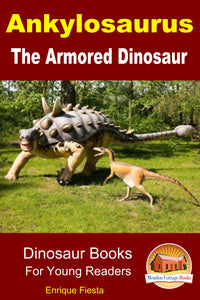 Ankylosaurus The Armored Dinosaur-Dinosaur Books For Young Readers
Ankylosaurus The Armored Dinosaur-Dinosaur Books For Young Readers
All Rights Reserved.
No part of this publication may be reproduced in any form or by any means,
including scanning, photocopying, or otherwise without prior written
permission from JD-Biz Corp and http://AmazingAnimalBooks.com .
Copyright © 2014
All Images Licensed by Fotolia and 123RF
Table of Contents
Introduction 4
Appearance 7
Environment 13
Behavior 19
Conclusion 22
Author Bio 23
Bonus Dinosaur Content 24
Introduction to Dinosaurs 25
Facts about Dinosaurs 27
Dinosaur Extinction 30
Dinosaur Fossils 32
Dinosaur Eggs 33
Dinosaur Names 34
Dinosaur Diet 39
Feathered Dinosaurs 41
Plant Eating Dinosaurs 42
The Weirdest Dinosaurs 44
The Deadliest Dinosaurs 46
Flying Dinosaurs 48
Kinds of Dinosaurs 51
The Biggest Dinosaurs 54
The Smallest Dinosaurs 56
Author Bio 57
Publisher 58
Introduction
The Ankylosaurus is one of the most famous dinosaurs for a great
number of reasons but mainly because of its distinctive and unique
look. The purpose of this book is to go back in time to the age of the
dinosaurs and explore just what exactly the Akylosaurus was, what it
did, and where it lived. It is important and fun to learn about dinosaurs
because they were some of the strangest and wonderful creatures to
ever live on our planet. Exploring the mysteries of our planet is an
engaging and worthwhile activity for people to do, and what better
mysteries to learn about than the mysteries of the dinosaurs.
The dinosaurs became extinct thousands of years ago but we still have
access to their bones which scientists call fossils. The scientists which
study fossils are called paleontologists. Paleontologists find fossils and
study them in order to learn things about dinosaurs. We are going to
talk about the things that scientists have discovered and what they
hypothesized dinosaurs did. A hypothesis is an educated guess. We are
going to learn about the "educated guesses" of scientists. They are only
guesses, no matter how educated, because it is hard to prove things
about dinosaurs since they no longer exist. Even though they are
guesses they are incredibly important to think about because scientists
use a lot of information and connect a lot of clues in order to come up
with their guesses. They compare their dinosaur discoveries to animals
that are alive today; they use scientific equipment to mathematically
and chemically test fossils; and they write papers to defend their
arguments.