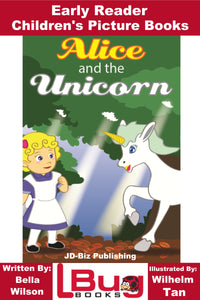 Alice and the Unicorn - Early Reader - Children's Picture Books
Early Reader - Children's Picture Books
Alice was a pretty little girl. She had a big mop of blonde curly hair (Daddy
called it her halo because she was his angel) and big round blue eyes. She liked
to play with her six dolls, especially on the swing in the garden, but most of all Alice loved to read. She was always reading, and she especially liked to read
about fantasy creatures like dragons (even though she was scared of dragons!)
phoenixes, griffins, elves, and goblins.