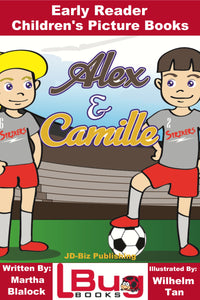 Alex and Camille - Early Reader - Children's Picture Books
Early Reader - Children's Picture Books
Alex and Camille were brother and sister. They were twins.
They each made friends at school, but they enjoyed playing together—just the two of them--
most of all.
Alex was shy. Most often, he was quiet. He liked to daydream.
Camille was not shy. Most often, she was loud. She liked to entertain her family.
Alex and Camille both loved to play soccer. Their team was called the Strikers.