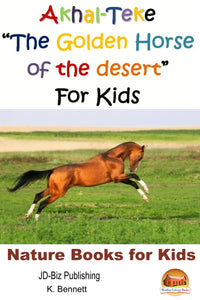 Akhal-Teke "The Golden Horse of the desert" For Kids-Nature Books for Kids
Akhal-Teke "The Golden Horse of the desert" For Kids-Nature Books for Kids
All Rights Reserved.

No part of this publication may be reproduced in any form or by any
means, including scanning, photocopying, or otherwise without prior
written permission from JD-Biz Corp
Copyright © 2014. All Images Licensed by Fotolia and 123RF.
Table of Contents

Introduction
Chapter 1The Golden Horse of the Desert
Chapter 2 What makes Akhal - Teke's unique
Chapter 3 A Few Akhal-Teke Facts
Conclusion Nature's Great Wonders
Author Bio
Introduction

He knows when you're happy, He knows when

you're comfortable, He knows when you're confident, And
he always knows when you have carrots. ~Author Unknown

***

"The Golden Horse of the desert! Exceptional movement, agility,
speed, stamina."
This is how Horsetalk.co.nz describes the Akhal-Teke. Do you think
they're right? You may not know a lot about this horse, so let's try to
find out what makes it so special.
Are you ready? Then let's get started!
The Akhal – Teke is an amazing horse with a beautiful coat that shines
in the sun! That's why many call it 'the golden horse of the desert.' Can
you guess why these horses are called "golden horses?" You're right! It
is because of their beautiful coat. It shines in the light. Look at the
pictures in this book and you will see it is true.