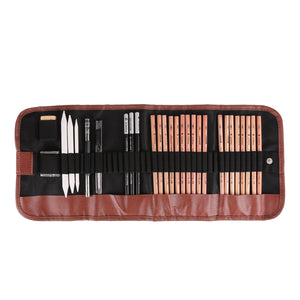 18pcs Pen Charcoal Sketch Set Sketching Pencil Set Roll Up Canvas Carry Pouch of Pencils Eraser Craft Knife Pencil Extender 29pcs Total for Beginners Artist
Features
:
18-piece set Great for beginners: Sketch tools all in one, the set offers a carefully chosen variety of the different sketching tools for the pencil artist, and they are designed for writing, drawing and sketching on paper and matte drafting film.
Great quality: Durable break-resistant metal craft knife + Stylish, lightweight, well-made canvas roll bag + Premium sharpened Pencils + Metal double-end pencil extender.
Convenient to carry - The ROLL pencil pouch/bag for storage have individual slots for each pencil, well protect your pen nib from damage and make them easy to carry. NOTE for usage of bag: Middle buckle on belt is designed to roll up in a cylinder. You can buckle it into a circle belt with last buckle to use to hang or hook.
Package - 18pcs Sketch Pencil set (HB/1pcs, B/1pcs, 2H/2pcs, 2B/4pcs, 3B/2pcs, 4B/4pcs, 5B/1pc, 6B/1pc, 7B/1pc, 8B/1pc), 3 Charcoal Pencil(Soft, Neutral, Hard), 4B Erase/1pcs, Kneadable erase/1pcs, Craft Knife/1pcs, Pencil Extender/1pcs, Pencil Bag/1pcs, 29pcs in total.
Great drawing set - Give you freedom to create. Good choice for both artists and those who are interested in sketch. Suit for children age 3 years old and up.
Specification:
Type

1675884

Sketching Pencil Set

Material

Canvas, PU, wood, paper, metal, etc.

Quantity

1 set

Item Color

As shown

Sketch Pencil Length

17.5cm / 6.9"

Charcoal Pencil Length

17.5cm / 6.9"

Paper Pen Length

15cm / 5.9" ; 13.5cm / 5.3" ; 12.5cm / 4.9"

Pencil Extender Length

13.5cm / 5.3"

Erase Size

4*2.5*1.5cm / ; 4*3.5*1cm /

Fold Size

20.5*9.5*7cm / 8.1*3.7*2.8"

Flat Size

48*20cm / 19*7.9"

Net Weight

0.275kg / 2.7oz
Package:
18*Sketch Pencil (HB/2pcs, B/2pcs, 2B/4pcs, 3B/2pcs, 4B/4pcs, 5B/1pc, 6B/1pc, 7B/1pc, 8B/1pc)
3*Charcoal Pencil (Soft, Neutral, Hard)
2*Eraser
3*Paper Pen
1*Knife
1*Pencil Extender
1*Pencil Bag