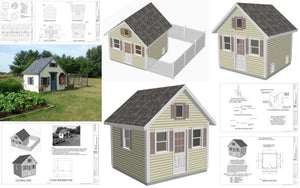 12 x 12 x 8 Garden Shed / Chicken Coop / Playhouse / Bunkhouse
G489 12 x 12 x 8 Garden Shed / Chicken Coop / Playhouse / Bunkhouse
Special Limited Time Offer

If you are interested in building a chicken coop, we have put together a great package of chicken coop plans
As we built the chicken coop for our yard we took lots of pictures and added the narration explaining what we were doing. We are now enjoying having fresh eggs from our small flock of chickens every day and it all started with building a chicken coop. http://build-chicken-coop.com
This plan that you are looking at was inspired by this picture that I found on the internet.
I think it is a cute little building that can be used as a chicken coop, garden shed, or a children's Playhouse.
We hope you will also look at some of our other plans and give them a try. We offer great plans at affordable prices.
Great little shed that is easy to build and can take on many different roles. When your kids are young they can use it as a playhouse. No kids no problem use it as a garden or storage shed. Build a few nesting boxes in it and you can also turn it into a chicken coop.