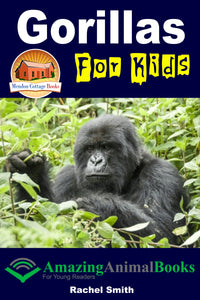 Gorillas For Kids - Amazing Animal Books For Young Readers
Gorillas For Kids - Amazing Animal Books For Young Readers
All Rights Reserved.

No part of this publication may be reproduced in any form or by any
means, including scanning, photocopying, or otherwise without prior
written permission from JD-Biz Corp
Copyright © 2015. All Images Licensed by Fotolia and 123RF.
Table of Contents
Introduction 4
What is a gorilla? 5
What kinds of gorillas are there? 10
The history of gorillas and humans 12
Cross River Gorilla 15
Western Lowland Gorilla 18
Eastern Lowland Gorilla 21
Mountain Gorilla 23
Conclusion 25
Author Bio 26
Publisher
Introduction

Gorillas have long interested people. When the large apes were
discovered by Europeans, it sent a frenzy into the scientific community.
Never before had such large apes been seen, at least not by them. They
were not so unusual to the societies already living in the same general
area.

Westerners believed that the gorilla was a violent beast, meat-eating
and foul-tempered. They believed this because of the gorilla's teeth, and
because most of them only saw dead gorillas, rather than seeing them
living in their natural habitat.