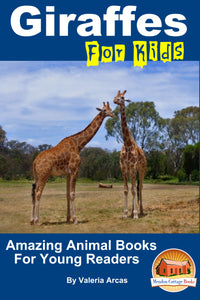 Giraffes For Kids-Amazing Animal Books For Young Readers
Giraffes For Kids-Amazing Animal Books For Young Readers
All Rights Reserved.

No part of this publication may be reproduced in any form or by any means,
including scanning, photocopying, or otherwise without prior written
permission from JD-Biz Corp and http://AmazingAnimalBooks.com .

Copyright © 2015

All Images Licensed by Fotolia and 123RF
Table of Contents

Introduction 4
Let's Learn About Giraffes (Features) 6
Giraffes and Their Home (Habitat) 9
Chewing All Day Long. What Giraffes Eat? 11
Are You Thirsty? How Giraffes Drink? 13
Nap Time! How Giraffes Sleep? 15
The Nursery - Giraffes and Their Babies 17
Let's Talk. How Giraffes Communicate? 20
We Look the Same, But We are Not (Sub-species) 22
Please Take Care of Me 24
Come To Visit Me (Captivity) 26
A Little Bit of Information - Interesting Facts 28
Conclusion 30
Author Bio 31
Publisher 38
Introduction

Let me introduce you to one of the most beautiful and elegant animals
in the African savanna, they are majestic in appearance, with an
unusual body form and a peculiar gait, walking with pride, monumental
in height and so peaceful, its golden spotted pattern skin shines as the
sun in the savanna. The Giraffe!


You may have seen them at the zoo, as a tall plush toy in a toyshop or
maybe in a movie or cartoon. These adorable creatures have a tender
look that makes people want to hug and nurture them.