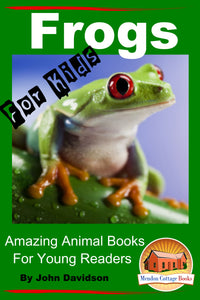 Frogs For Kids-Amazing Animal Books for Young Readers
Frogs For Kids-Amazing Animal Books for Young Readers
All Rights Reserved.

No part of this publication may be reproduced in any form or
by any means, including scanning, photocopying, or
otherwise without prior written permission from JD-Biz Corp
and http://AmazingAnimalBooks.com. Copyright © 2015
All Images Licensed by Fotolia and 123RF
Table of Contents

1. Frogs: Fascinating Facts.....................................................................4
2. The Frog's Life Cycle. ....................................................................11
3. Where Do Frogs Live? ..................................................................16
4. Hibernation .......................................................................................20
5. Are Frogs and Toads the Same?...................................................24
6. What Do Frogs Eat? .........................................................................27
Frog eating fish in a lake ......................................................................28
Snake eating a frog7. Types of Frogs...................................................31
7. Types of Frogs..................................................................................32
8. Poisonous Frogs as Pets....................................................................36
9. Poison Dart Frogs.............................................................................39
10. Tree Frogs.......................................................................................43
Publisher...............................................................................................54
1. Frogs: Fascinating Facts

Wherever you are, wherever you live...you will find frogs!
These fascinating creatures live all over the world, except in
the most frigid part of Antarctica. There are endless
variations of size and color and they make the widest range
of sounds. They even live in our most imaginative fairy-tale
world and in ancient myths.

Frogs often turn into handsome men and beautiful princesses
in fairy tales. Chinese mythology associates frogs with
magicians and escape artists. In Scotland, you give images of
them as gifts to new neighbors, to bring luck to their homes,
and the ancient Egyptians claimed that frogs meant fertility
and would bring a couple many children.