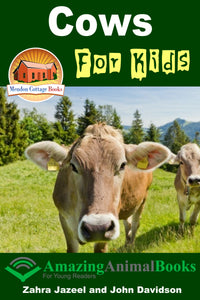 Cows For Kids - Amazing Animal Books For Young Readers
Cows - For Kids -Amazing Animal Books -For Young Readers
By Zahra Jazeel and John Davidson
Mendon Cottage Books
JD-Biz Corp Publishing
All Rights Reserved.
No part of this publication may be reproduced in any form or by any means,
including scanning, photocopying, or otherwise without prior written
permission from JD-Biz Corp
Copyright © 2014. All Images Licensed by Fotolia and 123RF.
Table of Contents
Introduction 4
About Cows 5
Domestication and Husbandry 7
Cows in religion, traditions and folklore 9
British White 11
Randall 13
Red Poll 15
Tudanca 17
Brown Swiss 19
Holstein Friesians 21
Ayrshires 23
Angus 25
Limousin 27
Murray Grey 29
Square Meater 31
Cachena 33
Ankole – Watusi 35
Author Bio 37
Introduction
There is nothing more refreshing than drinking a glass of fresh milk
early in the morning. This Calcium rich liquid is produced by one
special animal- The cow. For over centuries, people had been
drinking the milk of cows more than any other animal. No wonder
the cows were referred as our foster mothers!
Cows are among the most common domesticated mammals. Did you
know that the 1 st cow arrived in America during 1611? Surprised?
What is even more astonishing is the fact that almost all families had
their own cow till 1850s. Since cows are gentle animals, they could
be handled easily.
Cows were domesticated not only to obtain milk. They were used for
other purposes such as in meat production, as draft animals, in leather
production as well as in making manure or compost.
Today, beef or the cattle meat is used in many fast foods that
everybody enjoy like burgers, hamburgers, submarines and any more.
There is a unique flavor as well as a fine, succulent texture in their
meat which cannot be compared with any other type of meat.
Join us as we try to explore the world of cows trying to understand
their different breeds, features, environmental impacts and many other
exciting facts!