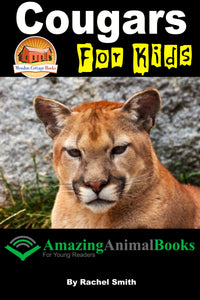 Cougars For Kids - Amazing Animal Books - For Young Readers
Cougars - For Kids - Amazing Animal Books - For Young Readers
All Rights Reserved.
No part of this publication may be reproduced in any form or by any
means, including scanning, photocopying, or otherwise without prior
written permission from JD-Biz Corp
Copyright © 2015. All Images Licensed by Fotolia and 123RF.
Table of Contents
Introduction 4
What is a cougar? 5
How do cougars act? 9
What kinds of cougars are there? 15
The history of cougars and humans 17
Cougars and conservation 21
Hybrids of cougars 24
Conclusion 26
Author Bio 27
Publisher 33
Introduction
Cougars, also known as mountain lions, are probably one of the best
known local predators in the places like the United States of America.
As one of the very few big cats in North America, the cougar sort of
inhabits a special place in American and other cultures.
It has no special markings; it's mostly its size that sets it apart from
other cats for those who live around it. The cougar is not necessarily
loved where it lives, but certainly fulfills an important part of its
ecosystem.