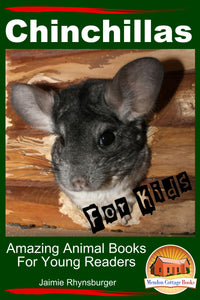 Chinchillas - For Kids - Amazing Animal Books For Young Readers
Chinchillas - For Kids - Amazing Animal Books For Young Readers
All Rights Reserved.
No part of this publication may be reproduced in any form or by any means, including
scanning, photocopying, or otherwise without prior written permission from JD-Biz
Corp and http://AmazingAnimalBooks.com . Copyright © 2013
Table of Contents
1. Introduction
2. What is a Chinchilla?
3. What a Chinchilla Looks Like
4. Habitat
5. Chinchilla Life Cycle
6. The Way Chinchillas Talk
7. Chinchilla Defense Mechanisms
8. Chinchilla Diet
9. Chinchilla Table Manners
10. Chinchilla Conservation: Working to Save an
Endangered Species
11. Efforts to Save the Chinchilla
12. Chinchillas as Pets
13. Giving a Chinchilla a Home in Your House
14. Domestic Chinchilla Diet
15. Chinchillas as Social Animals
16. Dangers to a Chinchilla in Your Home
17. Unique Chinchilla Facts: What Makes a Chinchilla
so Special?
18. Where to Visit a Chinchilla
19. Photo Credits
20. Read More Amazing Animal Books
21. About the Authors
1. Introduction
Chinchillas are fun, cute, and highly unique animals. Most people can claim that they have heard of a chinchilla, but
very few know what they look like, or know much about them. This is because chinchillas are not native to a very
unique part of the world, meaning they live in only one small area of the world.
Chinchillas were discovered in the 1500s by Spanish explorers that came to South America. Even though they were
discovered in the 1500s, it wasnt until the 1900s that people came to know more about chinchilla. Today, chinchillas
can be kept as pets, and because of their cute and cuddly appearance, and their unique and quirky personalities, people
all over the world have fallen in love with them.
This book will talk about what chinchillas are, where they live and how they live, what they eat, and why these little
furry critters are so lovably unique.