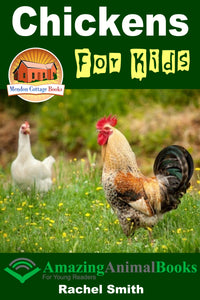 Chickens For Kids Amazing Animal Books For Young Readers
Chickens For Kids Amazing Animal Books For Young Readers
All Rights Reserved.
No part of this publication may be reproduced in any form or by any
means, including scanning, photocopying, or otherwise without prior
written permission from JD-Biz Corp
Copyright © 2014. All Images Licensed by Fotolia and 123RF.
Table of Contents
Introduction
What are chickens?
What do chickens look like?
How do chickens act?
What do chickens eat?
Chickens and humans
Bantam chickens
Araucanas
Pekin chickens
Icelandic chickens
Naked neck chickens
Cornish chickens
Turkeys
Peafowls
Conclusion
Author Bio
Introduction
There are more chickens in the world than any other kind of bird. They
are the staple of many farms, kept by farmers and country families
alike. They are known as the "bird that gives birth every day" and have
been around since ancient times.
Chickens were domesticated since long before we can remember. They
are very important in many parts of the world for food and feathers,
which help to keep us warm and comfy.
As a cheap way to have fresh eggs, chickens have grown more and
more popular as pets. They also are not as vicious as geese, a similar
animal that lays eggs and that humans use for food.
The chicken's popularity will only grow in places like America and
Canada as the allure of fresh eggs and having a unique pet catch
people's fancy. The chicken is already popular in other parts of the
world.
The chicken comes in an astonishing amount of varieties, from bantams
to naked necks to Cornish chickens. It has been a long time staple for
the peoples of the world, and it will continue to be so long into the
future.